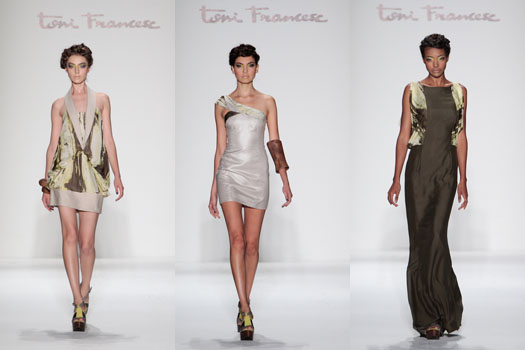 NEW YORK, Sep 20, 2010 / FW/ — Celebrating his third season in New York, Spanish designer Toni Francesc subtly tackled the environment and being eco-friendly in his Spring 2011 collection unveiled Tuesday, Sep 14th.
Entitled "Urban Forest", Toni Francesc interpreted a forest-based city environment through fashion and thus obviously chose organic fabric – linen, cotton and silk to create the collection. The fabrics boast their own organic language and are combined to bring texture to the designs.
With wood as his inspiration, the collection became as versatile as wood itself. In this respect, depending on its treatment, wood can present its most natural dimension -as witnessed in tree bark -or its most elaborate side, including carved and moulded wooden forms.
The Collection's clothing items present a series of rough and enveloping forms combined with other cleaner volumes and straight, milder lines.
The color palette is inspired by natural landscapes, using neutral shades such as beige, white and grey while incorporating tones that contrast with flashes of light in the shades of yellow, turquoise and coral.
[MARI DAVIS]
Photos courtesy of Toni Francesc
New York Fashion Week Spring 2011