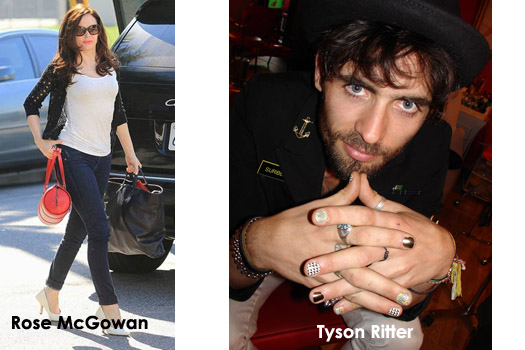 DALLAS, Oct 25, 2010 / FW/ — From travelling to jeans, even manicures, it is always interesting what the photographers find on the beat.
Tyson Ritter, the lead vocalist and bass guitarist of the band "The All-American Rejects" was minxed by New York celebrity manicurist Naomi Yasuda. Tyson requested a combination of Golden Lightning Minx, Star of Dawn Minx, and Golden Studs Minx for his fingers – very rock and roll!
With over 10 million albums sold worldwide, The All-American Rejects have many hit singles, including "Gives You Hell" and were included on Billboard magazine's "Billboard 200 Artists of the Decade" list.
From Los Angeles International to Milan's Linate Airport, Rachel Bilson had great use for her Victorinox Mobilizer NXT 4.0 30" Upright in Khaki which seemed to carry everything that the actress need for her trip.
On October 22nd, in London, Helena Bonham-Carter attended the premiere of the King's Speech wearing a Vivienne Westwood Couture paper taffeta silk tartan corset and duchess silk satin skirt.
The Vivienne Westwood Gold Label and Couture is available from 6 Davies Street, London W1K 3DN.
Tel: 020 7629 3757 (www.viviennewestwood.com )
Back in New York, Cara Buono, from the hit TV show "Mad Men" attended the "Mad Men" Season 4 Finale Screening carrying the Amanda Pearl "Indira" Roll Clutch.
The roll clutch is turning out to be a celebrity favorite with Chloe Sevigny, Emma Stone and Alexis Bledel – all seen carrying clutches from the Amanda Pearl collection.
In Los Angeles, actress Kate Bosworth wore a Sergio Rossi Black Suede Pumps with Leopard print detail when she attended the Esquire House LA Opening Night Event with International Medical Corps at Esquire House Estates last October 15th.
While about town in Los Angeles last October 11th, actress Rose McGowan was seen wearing Genetic Denim The Shane in Finn.