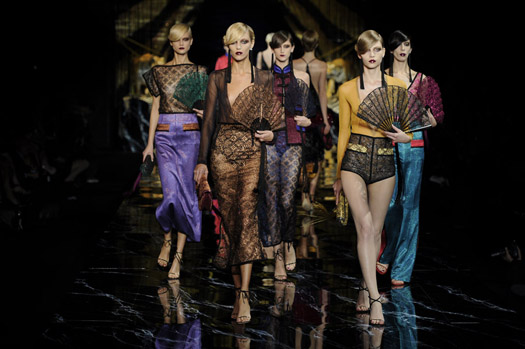 PARIS, Oct 13, 2010 / FW/ — With China currently on the headlines as the new financial superpower, it is not surprising to find references to Cathay on the Louis Vuitton catwalk especially if we consider that LVMH has been expanding its presence there for the past several years.
Exotic and mysterious, China's long history has always been an inspiration to designers. Choosing 1920s China as his muse, Marc Jacobs created gold-plated trouser suits, satin tight dresses in floral patterns, as well as the famed Chinese Kung Fu jacket and pants.
Evening gowns in waves of silk in brilliant colors and wide drop down waist belts were reminiscent of scenes from the Forbidden City of Imperial China.
In a season where most houses were playing it safe, Louis Vuitton had taken the opposite path and had declared its support for elegance and luxury.
[MARI DAVIS & LIDIA BARDINA]
Photos by Chris Moore, courtesy of Louis Vuitton
Paris Prêt-a-porter Spring 2011