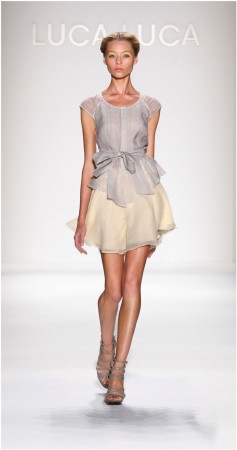 MIAMI, Oct 20, 2010 / FW/ — Featuring highlights from his Spring 2011 Collection, Raul Melgoza, Creative Director of Luca Luca will grace the 3rd Annual Vanidades "Magia de la Moda" runway show during MIAMI FASHION FEST.
The collection which was first unveiled last September in New York was inspired by the Sydney Opera House as seen it the geometric triangular shapes, resembling those of a sail.
Lending graceful movement to the light, the geometric sheer fabrics and contrasting shades of the sunset draw the mind to dreams of a pleasurable evening near the harbor after a long day of sailing.
Each piece fluidly layers transparent prints of blue, pink and coral embodying freedom with feminine elegance. With the airy feel of a parachute, the weightlessness of this season's collection is complemented with coarse rope, lacing the garments with mesh netting embellishments and detail.
Exemplifying the diverse roles of women in today's society, Melgoza's latest collection represents the softness of woman contrasted with her bold characteristics-a new take on refined sex appeal.
A bona fide Seventh Avenue success story, Italian-born designer Luca Orlandi founded Luca Luca in 1992 with the vision of building an iconic fashion brand. A favorite of the social set in New York, Chicago, Palm Beach and Miami, the brand has also found a loyal following in Europe, Russia, and the Middle East.
In early 2008, Orlandi appointed Raul Melgoza, formerly Senior Designer at LUCA LUCA, as the Creative Director of the brand. Melgoza, born and raised in Los Angeles, studied fashion design at Parsons School of Design and upon graduation in 2005 joined the LUCA LUCA design team.
Melgoza's design aesthetic is deeply rooted in classicism, yet his vision incorporates the ever-changing role of women in society. Melgoza's design philosophy is to transcend seasons and trends to accomplish clothing that can be worn for a lifetime.
Luca Luca Spring 2011 @ Miami Fashion Fest
Friday, October 22, 2010 at 8:00PM
VANIDADES "Magia de la Moda" at Funkshion Fashion Week Miami Beach
The Bass Museum, 2121 Park Avenue, Miami Beach, FL 33139