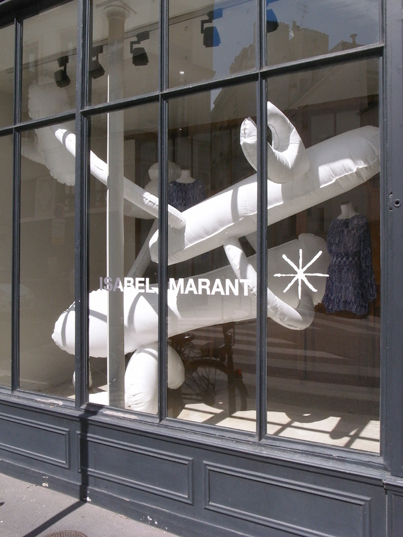 PARIS, Oct 20, 2010 / FW/ — As it is in her New York boutiques, Isabel Marant's store windows in Paris display a series of sculptures by French sculptor and artist Arnold Goron. (www.arnoldgoron.com )
Made from inflated Tyvek, a synthetic material made of flashspun high density polyethylene fibers by DuPont, these organically shaped forms were created by cutting and gluing together Tyvek using a special process developed by Goron.
And like all sculptures, the pieces are unique, ergo; every Isabel Marant store window is unique. The store windows below are in Paris – Rue de Charonne, Rue Jacob, Rue Saintonge.
Different Tyvek sculptures are on display in New York and Madrid and soon will be on show in Beirut.
[MARI DAVIS]
Photos courtesy of Arnold Goron