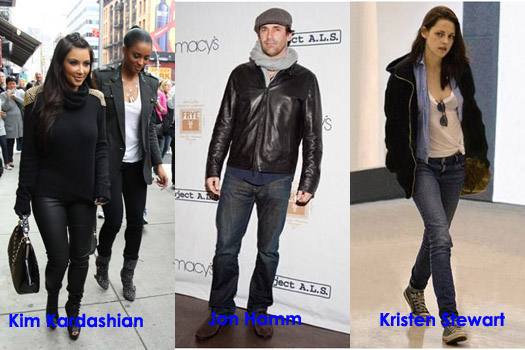 DALLAS, Nov 1, 2010 / FW/ — Monday morning brings us a treasure trove of celebrity sightings.
JON HAMM was spotted wearing BALLY at the Project A.L.S. 13th Annual Tomorrow is Tonight benefit last October 21st in New York. The "Mad Men" star was wearing a black Lamb Nappa leather jacket from the Bally Fall / Winter 2010 Collection
Diane Kruger, who is currently filming "Special Forces", a movie about a French journalist in Afghanistan who is kidnapped by the Taliban, was seen at Los Angeles International Airport last October 27th wearing Genetic Denim The Shane in silver.
Yesterday, Oct 31st, Kristen Stewart traveled in comfort yesterday wearing a daftbird v-neck tee instead of a Halloween costume when she arrived in New Orleans to continue filming the final "Twilight" installment Breaking Dawn.
Kim Kardashian was seen wearing camilla and marc's "squire roll neck" sweater while out in New York City on October 25, 2010.
Now, for baby time! Violet Affleck wears a Juicy Couture Raincoat $142, while shopping with her mom, Jennifer Garner, at the Brentwood Country Market, Brentwood, California on Wednesday, October 20th, 2010.
Nahla Aubry wears a Juicy Couture Military Cardigan $138, while taking a drive with her mom, Halle Berry, in Beverly Hills, California on Monday, October 18th, 2010
Naleigh Kelley wears a Juicy Couture Blazer $138, while leaving a TV studio with her mom, Katherine Heigl, in New York City on Tuesday, September 28th, 2010