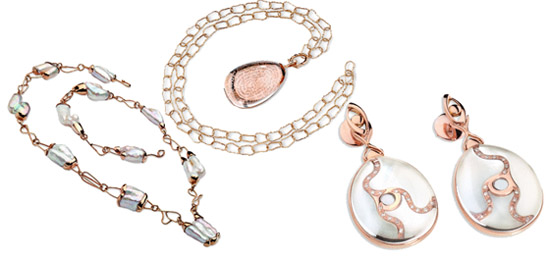 DALLAS, Nov 17, 2010 / FW/ — A "gem among jewellery" sounds redundant in grammar terms no matter how you look at it, but if you have seen the Eka jewellery line by Italian jewelry designer Cristina Rotondaro, the phrase begins to sound right in your ear.
Launched in 2000, Eka has taken the form of contemporary ethnic jewelry since its inception. Cristina Rotondaro who was born in Kenya to Italian parents also spent her growing up years in Morocco, Brazil and the Philippines.
Adding her multi-cultural upbringing to her numerous journeys around the world, Cristina Rotondaro's creative path evolved towards different interpretations of forms, colours and cultures of the countries which she has lived in and traveled.
A graduate of Johns Hopkins University with a Masters in International Affairs, Cristina Rotondaro took a roundabout way to a design career. Her work experience began at Saatchi and Saatchi as an account manager.
She then moved on to Bulgari, where she stayed six years in the European marketing sector for jewellery and watches. This was a fundamental experience which enabled the designer to learn about jewels, both creatively and commercially. Cristina was subsequently chosen to head up the Art de Table line which Bulgari develops in license with Rosenthal.
This experience led her to launching her own jewelry line which became an instant fashionista favorite. Three years after launching Eka, the label made a breakthrough in the American market in 2003 when both Barneys New York and Barneys Beverly Hills picked it up.
That same year, Cristina Rotondaro opened a small atelier-lab in Rome, which she considers her adoptive home, in Via della Purificazione 10, a stone throw from piazza Barberini.
The whole of the 2000s saw Eka Cristina Rotondaro becoming a favorite among the fashion set, its crowning achievement for the decade was realized in April 2010 when the brand moved into its new flagship store at Rampa Mignanelli 10A in the heart of Rome.
[MARI DAVIS]