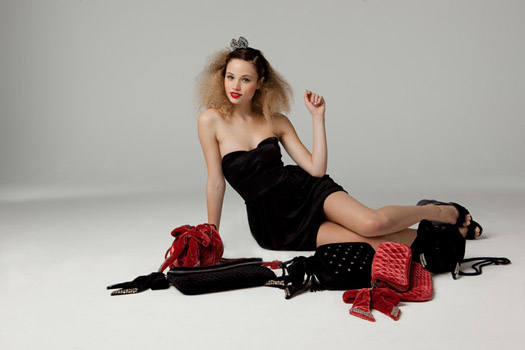 NEW YORK, Nov 2, 2010 / FW/ — As announced last July, designer Erin Fetherston is going to design a capsule collection for Holiday 2010 for Juicy Couture as part of an ongoing collaboration.
Inspired by iconic Juicy elements such as heritage fabrics like velvet, velour, viscose and silk ribbed waistbands and draw-cords, guest designer and creative consultant Erin Fetherston is infusing her own feminine, fun-loving spirit for a glamorous dress-up dress-down holiday collection.
Entitled, "Juicy Loves Glamour Girls", the collection will be available online and in Juicy Couture boutiques and selected stores worldwide on November 15th with prices ranging from $158.00 to $378.00 in the US.
To celebrate the debut of "Juicy Loves Glamour Girls by Erin Fetherston", Juicy Couture and Erin Fetherston shot a digital lookbook for the Holiday 2010 collection.
Shot in New York on Tuesday, October 26th by Poppy De Villeneuve and styled by Guillaume Boulez, this collection represents Fetherston's first designs for Juicy Couture and her designs and creative influence will be seen across the brand through 2011.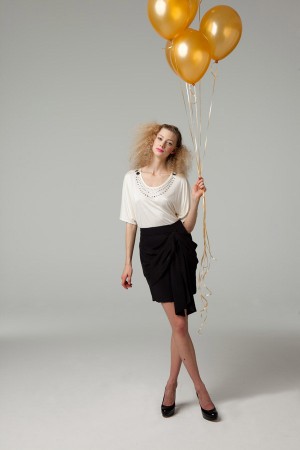 In "Juicy Loves Glamour Girls by Erin Fetherston", the designer brings modern proportions to 1930s and 1970s inspired silhouettes through a series of dresses and separates in rich, just this side of holiday jewel tones.
A draped silk skirt wears a giant abstract bow, while a washed silk dress gets a velvet bow draped across the bust. The beloved Juicy track pant is re-imagined as a front-pleat silk pant with a braided draw-cord finished in rhinestone-encrusted tips.
And, the season's sure-to-be favorite — the silk tuxedo jumpsuit— boasts a waist wrapped in a bejeweled bow.
"These pieces have the right balance of sparkle and casual chic elegance," said Fetherston. "I see them being perfect for a New Year's Eve fete or a night on the town."
Rounding out the collection, Fetherston also adds an offering of jewelry to compliment the line. Inspired by art deco detailing, Fetherston creates a stunning selection using a modern mix of metals and materials.
Rings, earrings and a miniature coin purse-inspired necklace all remain true to the capsule. Gorgeous necklaces in silver and gold carry on the collection's tassel and ribbon detailing. Among the many cute and playful pieces is a headband affixed with sparkly, beaded kitty ears.
This is the perfect novelty piece worn best by a jaunty party girl with a sense of humor. The designer also plays with different iterations of jewelry though hair accessories.
And, of course, no holiday offering is complete without the right shoe. Fetherston nails it with a very sparkly glitter open-toe pump in gunmetal or gold.