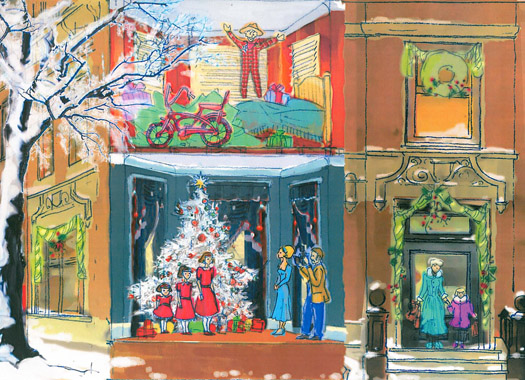 NEW YORK, Nov 11, 2010 / FW/ — It's that time of year when store windows become the big focus of both shoppers and retailers. Continuing its annual tradition, Lord & Taylor announced today that it will unveil its annual Christmas Windows on November 15th, 2010 with performances along Fifth Avenue by Kristin Chenoweth and the Young People's Chorus of New York City.
For the first time ever, anyone, anywhere in the world can be a part of the experience by watching the event online, which will be live-streamed at: www.lordandtaylor.com/share
With the theme "Share the Joy," Lord & Taylor's mechanical holiday windows will feature a series of 12 Christmas scenes set in NYC and inspired by favorite stories and memories that customers shared with the store in the spring.
Prior to the unveiling, the Young People's Chorus of NYC will perform "Share the Joy," a holiday song composed exclusively for Lord & Taylor.
Simultaneously, most Lord & Taylor stores throughout the chain will host a local student choral group to perform the special song across nine states. Each group outside New York City will be recorded and their performances will be posted on the site for viewing after the events.
Throughout the day the Fifth Avenue store will host "Charity Day" to benefit the American Red Cross in Greater New York, a non-profit organization that helps people prevent, prepare for and respond to disasters.
Customers who make a $5 donation to the charity receive a 20% off single-item coupon and 15% savings all day. The store will also support the charity's preparedness mission with a drive to collect from customers vital disaster supply items that belong in everyone's emergency "Go-Bag."
LORD & TAYLOR Store Windows Unveiling
Lord & Taylor, Fifth Avenue Windows
424 Fifth Avenue, New York City
Monday, November 15th, 2010
5:30 to 6 p.m.