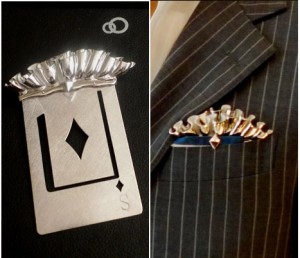 PARIS, Dec 20, 2010 / — The Japanese jewellery brand, AS collection, presented its new collection last July in Paris, during Haute Couture Week. Over a hundred French and foreign journalists and buyers were in attendance to discover, among other things, this highly original range of men's jewellery.
Behind the initials AS is Atsuko Sano. This young woman styles herself as a "jewellery producer", as one might be a film producer.
Like making a film means supervising the scenario, the lighting, the costumes, the choice of actors, etc… for Atsuko Sano, being a jeweller is much more than just designing jewellery. There is also the staging to work on!
To achieve this, she observes society around her, people's tastes, the quality of the work, the "casting" of materials and colours, and crucially, keeps a close eye to fashion and current trends. Jewellery, accessories and clothes are distinct but inseparable things and only a talented producer can stage them well.
On 22, 23 and 24 January 2011, during menswear and Haute Couture shows, AS collection will return to present its new exclusively masculine collection. Coats of arms on signet rings, black lacquered gold fangs, improbable structures, the eye of a cyclone placed directly on a finger… and as high point, the "Rin" collection, a quest for men's values and beauty in simplicity.
SAVE THE DATE: 22, 23 and 24 January 2011
Paris Haute Couture Spring 2011
Paris Menswear Fall 2011