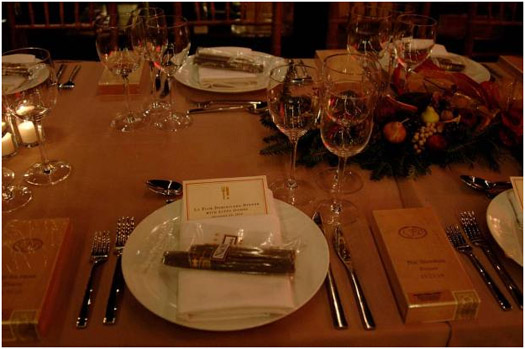 NEW YORK, Dec 1, 2010 / — The Nat Sherman flagship store, a unique New York City hotspot for cigar lovers, hosted an intimate 30-person dinner with La Flor Dominicana co-founder and cigar master, Litto Gomez.
And though nowadays, it is considered politically incorrect to smoke, Nat Sherman continues to cater to a very discerning clientele that include Robert Downey Jr., Nicholas Cage, Bill Clinton and Julianne Moore.
Nicknamed as "Tobacconist to the World", family-owned Nat Sherman which celebrated its 80th anniversary this year stands at 42nd Street in midtown Manhattan the same premises that Frank Sinatra and Jerry Lewis visited during their heydays as cigar aficionados.
In a time that even old world Europe that had become the EU is threatening to make all cigarettes generic and ban brand packaging in all of its 29-member nations, Nat Sherman still continues to offer their clients a true gentleman's emporium by hosting events in their historic smokers' Johnson Club with exciting leaders in the cigar industry.
The dinner in honor of La Flor Dominicana co-founder and cigar master, Litto Gomez is one of such events. Celebrity chef Olivier Cheng prepared a delectable four-course dinner accompanied by a cigar menu of La Flor Dominicana blends.
Guests dined on truffle shrimp and tuna tartar appetizers, goat cheese soufflé and filet mignon entrees and ginger cake dessert. Each was perfectly paired with The Macallan 15-year, 25-year and 30-year single malt whiskies.
The star of the evening was undoubtedly the LFD Ligero 579 Oscuro Natural – a unique cigar created, and available, only for the evening.