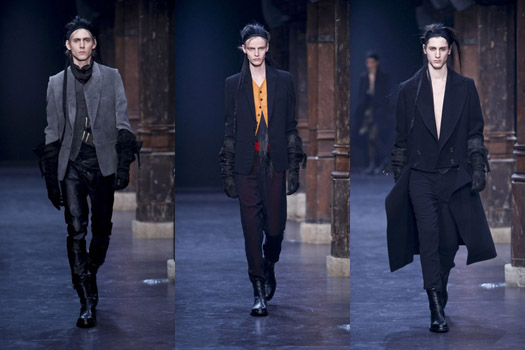 PARIS, Jan 24, 2011 / FW/ — The thrill of seeing Ann Demeulemeester's next collection is in learning of the tales behind the clothes, and seeing that inspiration come to life in her work.
This season, Demeulemeester took her inspiration from the eighteenth-century poet, William Blake. The elements of Blake's that most inspired the designer were those of the elements- earth, water, fire, air. These elements were not only seen in the color palette, rich in orange, blue, gold, and of course, black, but also in the structural elements of the garments.
Giving us the must-haves of the season, Demeulemeester showed geometrically tailored jackets, rethought trousers, gauntlet gloves, and plenty of leather.
Pants, jackets, boots, gloves- you name it, she did it in leather. The bolts of color in this collection stood out against the poignant dark colors, especially in the pants which showed just a whisper of color underneath sheer black silk.
Demeulemeester was quick to point out, however, that her jackets this season were not 'deconstructed.' Rather, "It's a new way to give movement," she said.
[LINDSAY McCALLUM]