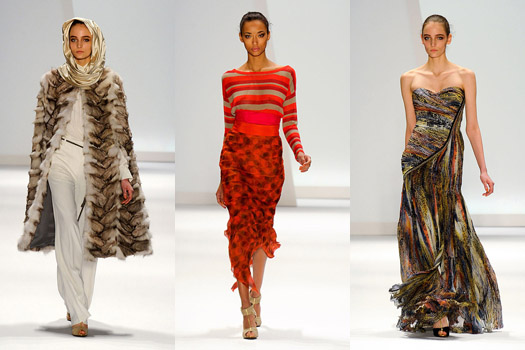 NEW YORK, Feb 15, 2011 / FW/ — Carlos Miele introduced his Fall 2011 collection at the Mercedes Benz New York Fashion week with, a color palate twist. Carlos took this season's palate of ivory, black a step further by adding chartreuse, fuchsia, electric blue and a petrol hue of green.
Velvets, silks and furs enchanted the runway hooded and adorned in metallic. Solid colors of drapery and fabric- manipulated details dress the Persian socialite appropriate for winter travel destinations.
Many designers grasped the choice of red to accent a neutral palate. The designer did more than accent the collection. Carlos Miele defined the presence of red tones this season. Signature jumpsuit silhouette, demanded attention in solid red accessorized in black velvet. Fluid pants were paired back to striped monochromatic knits. Separates and dresses that featured an eclipse print on chiffon and silk.
Enhancing the color story, velvet petrol pleated pants were effortlessly styled with one of the many featured fur capes. Vibrant gowns of chartreuse and blues presented pleating and drapery framed by braided trim adornments. Asymmetrical necklines help enhance velvet tops and printed gowns. The red carpet can count on seeing the peach silk chartreuse dress with beaded side detail or a few of the ivory and black gown variations.
[ERICA REED]
Photos courtesy of Elle.com
New York Fashion Week Fall 2011