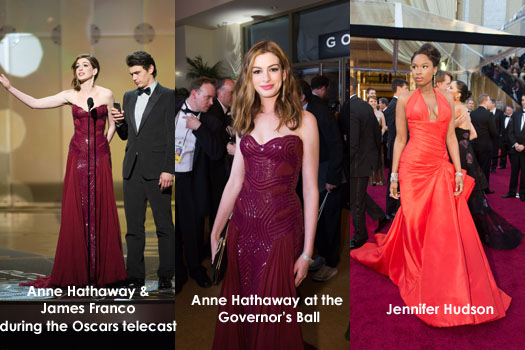 LOS ANGELES, Feb 28, 2011 / FW/ — At the 83rd Academy Awards and at the after-parties, it was a parade of beautiful people everywhere. Yet there were stand-out beauties and they are Anne Hathaway, Jennifer Hudson, Charlize Theron, Jessica Biel and Elizabeth Banks.
Another thing they have in common, they chose to wear Versace for the evening.
Anne Hathaway, the youngest ever to be an Oscar host chose to wear a gown from the Spring 2011 Atelier Versace Collection, a strapless burgundy silk chiffon gown with intricate beading and draping throughout the bustier during the telecast.
Anne liked the Versace gown so much that she decided not to change her wardrobe (she had more than half a dozen changes during the telecast) when she attended the Governors Ball after the Awards ceremonies.
Academy Award Winner Jennifer Hudson walked the red carpet and presented an award in an Atelier Versace gown in a deep orange color, with a draped bodice and folded skirt with a full train. She completed her look with Versace platform sandals.
In occasion of the Vanity Fair party, Academy Award winner Charlize Theron wore a white Spring 2011 Atelier Versace one-shoulder gown with draping and starburst of Swarovski crystals at the side.
The stunning actress Jessica Biel also chose a look from Spring 2011 Atelier Versace, she wore a gold and silver fully beaded gown with thin halter and off the shoulder straps and draping on the sides.
Gorgeous actress Elizabeth Banks wore a sheer, long-sleeve vintage Versace mini dress covered entirely in Swarovski crystals.