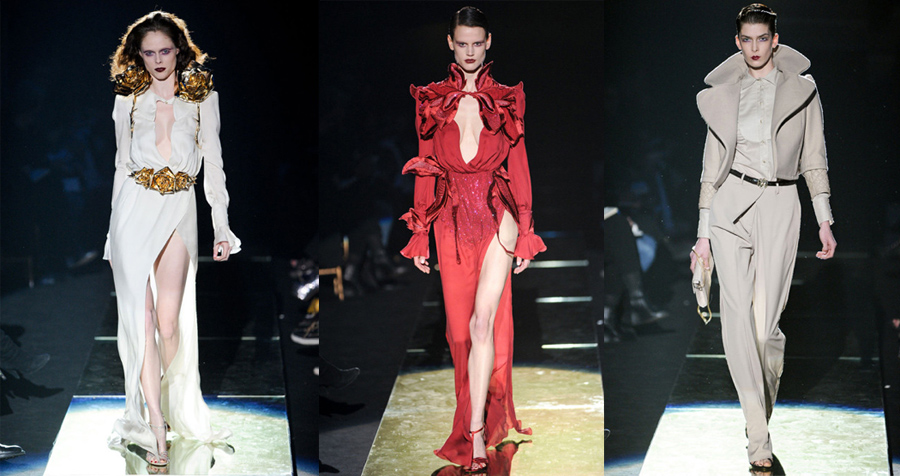 MILAN, Feb. 24, 2011/FW/ —  This collection was absolutely stunning.  Set in an ancient rotunda where the models heels echoed throughout the stone cold structure, the show was a hit from the lighting and music to the pieces that walked the runway.  Giving off an air of Femme Fatale seductive dressing, Francesco Scognamiglio's collection focused on the elements of the rose.
To the designer, the rose is an emblem of elegance and attitude.  This was heavily reflected in the 1930s silhouettes, volumes, and proportions, which often blurred the lines between feminine and masculine- all while keeping it ultra glamorous.
Thigh high boots were heavily crystallized with Swarovski and paired with anything from a puffy coat to a super sexy lace mini dress.  A sultry feminine look like this was often followed by an androgynous pantsuit with high waist, wide legged pants.  Contrasting silhouettes were united by sultry wine colored lacquered lips and other femme fatale elements.
One of the most striking pieces was a white blouse tucked into white high waist, wide legged trousers, and a "rose effect" gold metallic stem intertwined around the models shoulders and back as if it were growing from her.
Very dramatic, well tailored, and different from everything else we have seen so far this season, Francesco Scognamiglio definitely executed his vision beautifully.
[LINDSAY McCALLUM]
photos courtesy of Elle.com