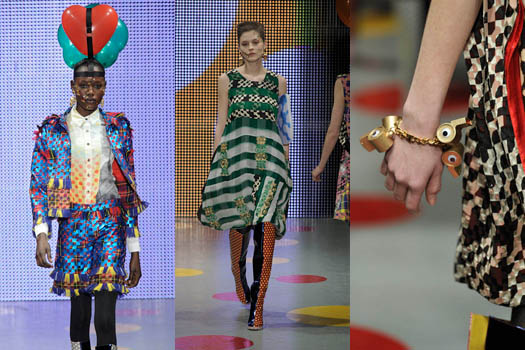 LONDON, Feb 24, 2011 / — Urging her audience to "Up their Look", Louise Gray had a clear starting point for her Autumn 2011 / Winter 2011 collection.
"I took a spot, a stripe, and a check, and then played around," she says. The result is a riot of graphic colour and volume, with LOUISE pushing pattern to its limits while staying totally in control. Every piece displays her love of experimentation with fabric, and a feel for colour which is entirely her own.
The checks that form the foundation of many pieces come from the plaids and tartans of her home in the North East of Scotland. A red bomber jacket starts with mohair plaid, then LOUISE takes it somewhere else entirely by overlaying a pixellated print of plaid on top, so plaid sits on plaid.
For LOUISE, the shirt is a key garment both for the collection and her wardrobe: an empowering piece that's not a blouse, nor meant to be worn as a dress, but is instead the perfect long layer on which to show the effect of her pixilated patterns.
Dresses are made from oversized circles, squares and rectangles laid together and then moved slightly off centre, while Indian beading adds another layer to draped dresses which also play with overlaid plaid, with go-faster stripes running down the side.
The show marks LOUISE GRAY's fourth season of NEW GEN sponsorship, with the support of On/OFF.
London Fashion Week Fall 2011