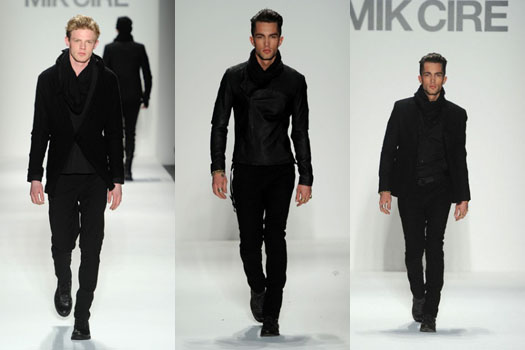 NEW YORK, Feb 13, 2011/ FW/ — Layered in black leather, cashmere, flannel and all things L.A. It's possible that there wasn't a sexier men's wear collection shown at the New York Fall 2011 fashion week. Mik Cire has become a particularly well-defined label that never fails to seasonally reinvent an ardent image.
A deep dusty Boudreaux complimented the black parade of lambskin jackets, wool blazers and suede down coats. Wool and goatskin engineered trousers or cropped pants were thrown in back calfskin boots. Cardigans were hooded and trench coats featured black shrilling linings and patch pocket details. A touch of bold red seams to be seasonal trend. Designer Eric Kim did not hesitate on the opportunity to showcase a pair of oxy blood leather jackets; well embraced by an energized audience. There was extensive seaming and studded details on these as well as various motor jackets.
Eye-catching looks were layered with simple white and black cotton T's, vests and silk scarves or sashes. Knitted caps and leather backpacks found their appropriate style assignments through out the presentation. Single-breasted suits featured a European and raised hem silhouette. Asymmetrical over pieces appear through out the group be it in leather or flannel. The season was defined by a European fit that allowed the comfort of layering to be sharp and modern.
[ERICA REED]
Photos courtesy of Mercedes-Benz Fashion Week