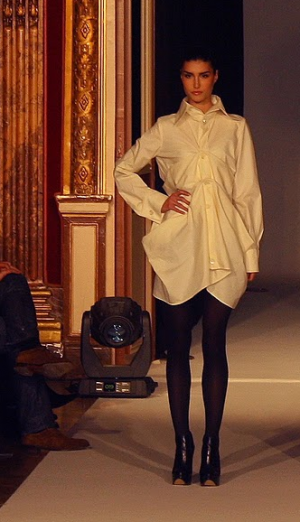 PARIS, Feb. 3, 2011/FW/ It is always impressive to see what kind of creative energy young fashion designers bring to the arena, especially when it's in Paris, the birthplace of fashion. Just last night, 15 talented young designers from around Europe competed in the second edition of the Podium Jeunes Stylistes contest, a Project Runway of sorts. Chosen from over 200 applicants, these final 15 competitors were the cream of the crop.
Each of the 15 designers was allowed 100 days to create two pieces for the competition around the theme 'le nuage,' the cloud. The winner, Quentin Lueillier, was announced after the finale and awarded the opportunity to further his business with the help of the École Superior de Commerce in Paris. Also, his winning pieces will be displayed in the Westin Place Vendôme for the weeks to come.
From the location, the Salon Impérial at the Westin Hotel in Place Vendôme, to the sponsors, Rolls Royce for example, and the panel of seven industry leading judges, plus the lead sponsor, creative director for Nina Ricci, Peter Copping, the Podium team pulled off a fantastic event. Even the president of the Fédération Française du Prêt-à-Porter Féminin, Jean Piere Mocho, was in attendance to offer his support for young designers and honor their ability to create.
The Podium Jeunes Stylistes contest was created in 2009 by a team of passionate, young business and creative minded people with the desire to highlight the talent of young designers and unite their skills in a public competition. The strides this team has made in the last year shows the potential for the future of Podium on the global level. The president of the group, Vincent Rouvière, said they plan to raise the competition to an international level in the coming years.
[LINDSAY McCALLUM]