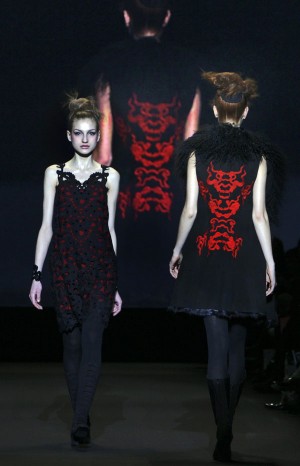 New York, February 19, 2010/FW/ — Vivienne Tam incorporates components of her Chinese heritage into each collection and her fall 2011 designs were no exception.
Tam's melodious muse this season was the 600-year-old Kun Opera and its modern day architectural counterpart the Guangzhou Opera House, a newly constructed complex where the art form is performed.
The contradicting combination of ancient and contemporary Chinese design conceived a collection full of traditional textiles and current cuts.
The ethnic influence was evinced in Look 14 where structural shoulders on a cropped charcoal vest took the shape of a pagoda, and in Look 35 where a silk print robe came complete with water sleeves, appliqués and fringe.
The principle color palette consisted of navy, grey and black with short-surfacing looks of solid jade and red.
Tam played a little too close to character in this collection. A less literal interpretation of the elaborate opera costumes of the Kun would have translated into a less thematic and more emphatic assemblage.
[SARAH BRAY]