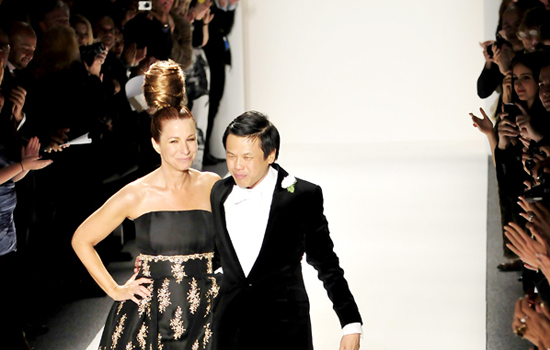 NEW YORK, Feb 19, 2011/ FW/ — It was the best of show! A house filled to capacity, a standing ovation and every piece in the collection breathtakingly beautiful… Zang Toi brought down the house last February 13th at the Lincoln Center.
In a very strong New York season wherein almost everyone is optimistic of the economic recovery and thoughts of the past crisis are far from everyone's mind, Zang Toi dominates with a collection that is nearer haute couture than ready-to-wear.
Every piece is handcrafted, every item is unique and every look is a limited edition, with only a handful actually produced. To Zang Toi, luxury dressing should be savored and adored for generations.
Entitled, "Timeless Beauties," the Fall 2011 Zang Toi collection was created in the famed Loro Piana fabrics – baby camel hair, cashmere, wool tweed and double face wool. With taffeta and French lace added into the mix, a very European feel prevailed.
New this season is the Zang Toi shoe collection. Made in his native Malaysia and currently only available in Asia, Zang Toi is planning to introduce his new accessory line here in the U.S. by the end of 2011 or early 2012.
Another item in the works is a new line of Zang Toi cosmetics that the designer is launching in collaboration with Amazing Cosmetics. The makeup used in the show, which was sponsored by Amazing Cosmetics might as well be the harbinger of the Zang Toi cosmetics line.
Still, with all these news about Zang, after his magnificent show, fans and supporters asked the New York-based designer, "You should show in Paris! When are we going to see your name on the Paris haute couture calendar?"
An effervescent Zang answered, "Pretty soon!"
[MARI DAVIS]
Photo by Edward Colelli
New York Fashion Week Fall 2011