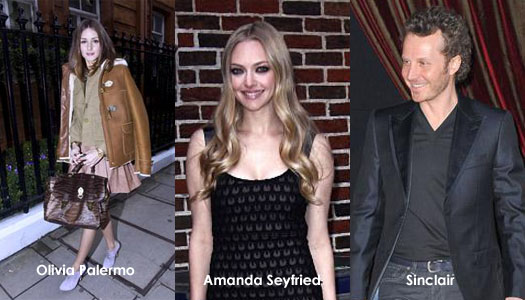 LOS ANGELES, Mar 3, 2011/ FW/ — With "Red Riding Hood" scheduled to hit theaters on March 11, Amanda Seyfried who plays the lead character "Valerie" in the movie is busy promoting the film.
A favorite stop for movie stars is the David Letterman show and on March 1st, Amanda Seyfried took the hot seat at The Late Show with David Letterman wearing a knee-length black VERSACE cocktail dress covered entirely eyelet details.
But, stardom has not spoiled the gorgeous young actress. On Feb 18th, Amanda Seyfried was spotted wearing HABITUAL jeans around town doing errands and unloading her car! No assistants or bodyguards, Amanda Seyfried seems to be your typical 25-year old!
In Paris, during the 26th Victoires de la Musique on March 1st, songwriter, composer and performer Sinclair wore LANVIN when presenting the Award for Album of The Year.
Sinclair wore a navy blue wool and silk tuxedo jacket, a midnight blue calfskin belt as well as a pair of high top trainers in charcoal calfskin and patent leather from the Lanvin Spring/ Summer 2011 collection.
Now, back here in the U.S., this week's #1 musical artist ADELE performed a secret show for the Emmy nominated, public television show "Live from the Artists Den" on Friday, Feb. 25th at the Santa Monica Bay Women's Club for a special group of fans who were lucky enough to get a ticket to the hottest show in town.
Some famous faces came out for the show including singer LEANNE RIMES and EDDIE CIBRIAN and "GLEE" actresses DIANA AGRON, NAYA RIVERA, and AMBER RILEY.
Adele joins the esteemed group of 100 artists including Alanis Morrisette, Ben Harper and Ringo Starr who who have shot "Live from The Artists Den" shows. The third season kicks off nationally April 1st with Robert Plant, Elvis Costello, Ray LaMontagne, Grace Potter and The Nocturnals, Squeeze, Daniel Merriweather, A Fine Frenzy, and Lisa Hannigan.
Melissa Leo, winner of the Best Supporting Actress Academy Award for THE FIGHTER, appeared on Oprah wearing her two favorite things: an Oscar in one hand and LIA SOPHIA jewelry on the other! Leo also showed her love by wearing the "O" shaped Co-Star necklace just for Oprah
Meanwhile, on the other side of the Atlantic, style setter Olivia Palermo was photographed outside of the Mulberry fashion show last week toting her favorite safari inspired Mulberry bag.
On the hunt for a chic animal print handbag like Olivia? Kathy Van Zeeland has a high-shine, high-style option in zebra or cheetah.
The Spot Check Shopper is fashionable and functional with a thick double strap, deep tote body and exterior cell phone pocket along with metallic stud zipper pulls. This fabulous handbag lends a statement to any outfit, day or night! The Kathy Van Zeeland Spot Check Shopper is truly a celebrity style steal at just $89.00.