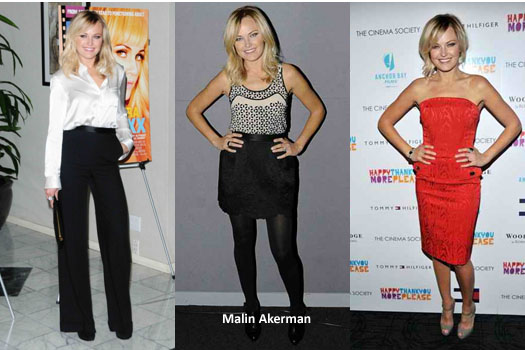 DALLAS, Mar 10, 2011 / FW/ — Malin Akerman hearts Stephen Webster! She loves accessorizing with Stephen Webster jewelry as of late. Recently, Akerman wore a Stephen Webster white gold batmoth ring during her appearance on George Lopez's show, 'Lopez Tonight'.
Friday, Akerman attended the Los Angeles premiere of 'Elektra Luxx' wearing the Square Jewelvine ring in white gold with black sapphires and white mother of pearl.
Akerman double dosed on Stephen Webster jewelry during her recent trip to New York City accessorizing with Stephen's Classic Crystal Haze Ring in 18k white gold with white diamonds and hematite stone for the Apple store's Soho event.
She also donned Stephen Webster to the NYC premiere of 'Happy Thank You More Please', selecting the Boulder Bracelet and the In Deep Prawn Ring, both in white gold with white diamonds and a hematite stone.
Wrapping up her Stephen Webster streak, Akerman arrived at the Montblanc Cocktail Party hosted by Harvey and Bob Weinstein during Oscar weekend wearing a Stephen Webster thorn cuff in 18k gold with black and white diamonds and a sushi ring in 18k white gold and hematite with white diamonds.
Reality star Kourtney Kardashian is fabulous in fringe, toting two Stella & jamie leather and stud handbags around Los Angeles. Kourtney arrived from New York at LAX with a camel-colored Stella & jamie Sue Fringe Bag.
On another outing with her sister, Kim Kardashian, Kourtney again was spotted with the of-the-moment shoulder bag. Kourtney then swapped out her Sue bag for a smaller, black-fringed version: the Stella & jamie Rav Bag during a recent shopping excursion and filming session in Malibu. Kardashian truly emulates the Bohemian trend this season with her favorite leather, fringe and studded IT bag.
Yesterday, Nicola Roberts attended Sarah Harding's engagement party in London wearing a bronze lace corseted dress with tan leather skyscraper sandals, both from the Vivienne Westwood Gold Label Spring- Summer 2011 collection.