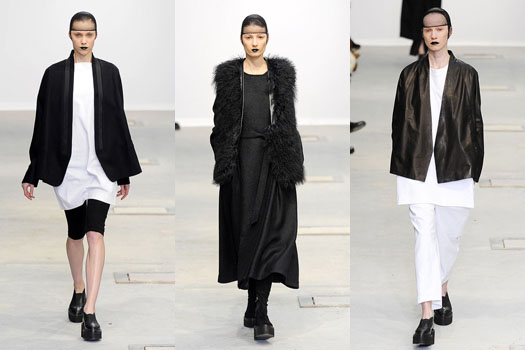 PARIS, Mar 6, 2011/ FW/ — Here it comes. A new, emerging silhouette that even the fashion industry elite cannot name. The loin-cloth-like shape of fabric, extending from the waist of a pant like a panel of a skirt, linearizes the look of the pieces.
By adding a panel of fabric such as this, Damir Doma not only blurred the lines of feminine vs. masculine, but also the lines of the silhouettes.
Keeping his collection black and white in the beginning, then shifting to copper, caramel and mustard, the emphasis on monochromatic looks was strong. Also strong were the fur vests and fur coats, which added texture when layered over spotted animal fur tops and pants.
Models wore black lips and hair nets that truly made them walking manequins to highlight the clothing. Seen also during the Damir Doma menswear show were the platform shoes that finished the linear line of the look from head to toe.
[LINDSAY McCALLUM]
Paris Prêt-a-porter Fall 2011