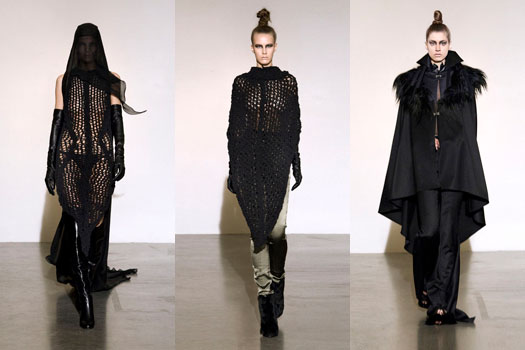 PARIS, Mar 7, 2011/ FW/ — Entitled ATROPOS, designer Harry Halim was inspired by the Greek Fates or Moirae – Clotho, Lachesis and Atropos.
According to Greek mythology, Clotho is the "spinner", the one who spun the thread of life from her distaff onto her spindle. Lachesis is the "allotter" or drawer of lots, the one who measured the thread of life allotted to each person with her measuring rod.
Atropos is the "inexorable" or "inevitable", and she was the cutter of the thread of life. Atropos choose the manner of each person's death; and when their time was come, she cut their life-thread with "her abhorred shears".
Setting the tone with the first exit, Harry Halim sent out a model with her face covered with a black veil, her dress with an asymmetrical hemline was knitted like a cobweb. But instead of looking morbid, it was mysterious, even with a touch of retro-futuristic high fantasy due to the knee high boots and leather opera gloves.
Understandably, black was the predominant color, interspersed with gunmetal gray and bronze to break the monotony. Atropos' shears were ever present, thanks to the asymmetrical, sharp pointy hems on the garments.
Very strong silhouettes that are almost masculine were softened by high slits that show a lot of legs and bare midriffs that show considerable skin. Still, the Harry Halim ladies are not seductresses. Rather, they are ultra modern women who are confident in being seen as strong.
High collars, capes, modern draping on the body, deconstructed lapels and the new shape of typical HARRYHALIM trousers in a mermaid style were also proposed. Leather (sometimes knitted into mesh jumpers), fur, python, wool, silk chiffon are the main materials.
[MARI DAVIS]
Photos courtesy of Harryhalim
Paris Prêt-a-porter Fall 2011
[nggallery id=321]