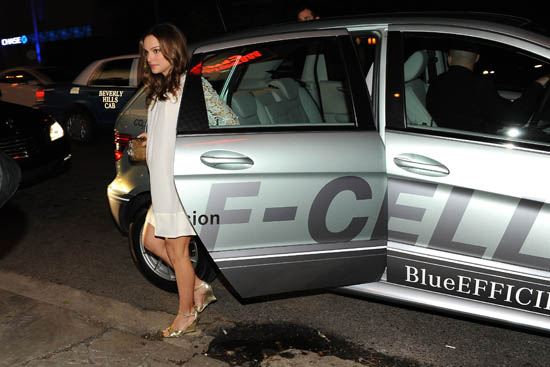 LOS ANGELES, Mar 6, 2011/ FW/ — Alright, we already know that Mercedes-Benz is the luxury car of choice of the fashion set. Case in point, the German car is the marquee sponsor of New York and Berlin fashion weeks.
But, did you know that is also the luxury car of choice of Hollywood A-listers? And first on the list is Oscar winner Natalie Portman, who Portman throughout the 2011 award season while attending marquee events such as the Golden Globe Awards, Palm Springs International Film Festival, Screen Actors Guild Awards, Independent Spirit Awards and the Academy Awards was driven in the Mercedes-Benz S400 HYBRID luxury sedan and Zero Emission B-Class Hydrogen Fuel Cell
"It's good that there are now vehicles with alternative fuel options, from clean diesel, hybrid and even hydrogen, that are becoming more widely available," said Portman.
And it's not just Natalie Portman who made that choice. The S400 Hybrid and BlueTEC vehicles have also made the rounds for various marquee events during the award season as the transportation of choice among a select group of celebrities who continue to live a green lifestyle include: Oscar Winner Colin Firth, Oscar nominee Amy Adams, Golden Globe Nominee Mark Wahlberg, Carey Mulligan, Oscar host and nominee James Franco, Helen Mirren, Aaron Eckhart, Oliver Stone, Oscar Winner Jesse Eisenberg, Ben Affleck, Robert Duvall, Eva Mendes, Kirsten Dunst, Julia Stiles, Matthew Rhys, Ali Larter and Hayden Panettiere among others.
Since its debut, the Mercedes-Benz S400 HYBRID luxury sedan has been the vehicle of choice for many eco-conscious A-list actors including Tobey Maguire, Gerard Butler and Demi Moore among others.
Mercedes-Benz kicked off award season as a title sponsor of the Palm Springs International Film Festival and The Art of Elysium's Fourth Annual Black Tie charity gala. In addition, the Company sponsored the Hollywood Dominos 4th Annual Gala benefiting The Seven Bar Foundation, and their annual Academy Awards viewing party at the Soho House West Hollywood.
Only available in California currently due to the lack of fueling stations nationally, the Mercedes-Benz Zero Emission B-Class Hydrogen Electric Fuel Cell vehicle offers celebrities, tastemakers and the truly eco conscious consumers a greater selection in choosing to go green.
With only 70 to be leased in California, the new Mercedes-Benz F-Cell is essentially an electric car that is fueled by compressed hydrogen that boasts an equivalent fuel mileage of 86.6 city-highway miles per gallon with a range of up to 240 miles, can be re-fueled in a few as 3 minutes, and produces water as the only emission.
Photos Courtesy of Mercedes-Benz