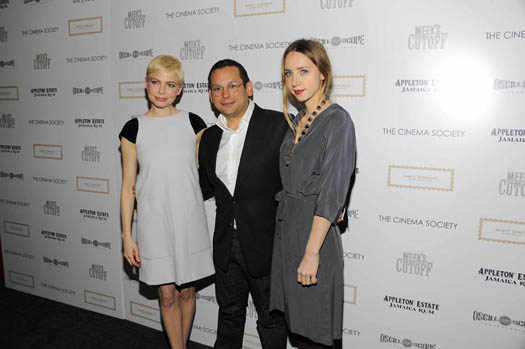 NEW YORK, Mar 29, 2011/ — Last night at Landmark Sunshine Cinema in New York, Cinema Society & Nancy Gonzalez, along with Appleton Estate Rum, hosted a screening and after-party for Michelle Williams' new film "Meek's Cutoff".
Academy Award® nominated actress Michelle Williams, along with Zoe Kazan and director Kelly Reichardt attended the screening and after-party at the rooftop of the James hotel in Tribeca.
Sheryl Crow, Courtney Love, Dana Delany, Holly Hunter, Sofia Coppola, Irina Pantaeva, Paul Dano, Alan Cummings, Anna Sui, Fabien Baron, Olivier Theyskens, Shalom Harlow, Stephen Baldwin, Colin Quinn, Dominic Fumusa, Fred Armisen and Rachel Roy also came out to show their support.
Zoe Kazan, Dana Delany and Irina Pantaeva carried Nancy Gonzalez crocodile clutches and posed with Santiago Barberi Gonzalez, president of Nancy Gonzalez. Meek's Cutoff is in theaters April 8.