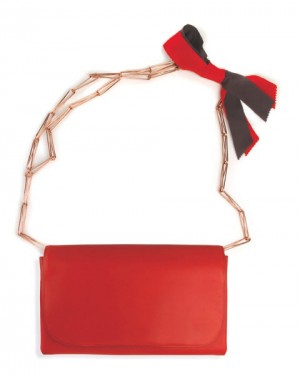 PARIS, Mar 22, 2011/ FW/ — Isabelle Bois and Valentina Tortorella, the French-Italian design duo behind Ragazze Ornamentali continues their search for a unique expression on the path of sensual and unostentatious femininity for accessories pieces.
And this time, they found luxury accessories that are timeless and refined in the color RED. A reflection on objects that implies a personal and poetic body language, the red thread of RAGAZZE ORNAMENTALI unfolded inside the universe of leather goods.
The Chromatic palette articulates itself; it unfolds through time as a new vibrant complement. Prune, blue and bronze, autumn's vibrant colors reverberate through the whole collection of leather goods.
A new leather, buffalo full grain, makes its entry and dresses-up the whole collection with roundness, density and softness new functions, new ways to hold and use, new icons
THE CITY HAND BAG – "Il Borsello"
A disciplined format for the everyday essential handbag. a grand contemporary classic, partitioned and functional, to curl up and protect our essentials and a little bit more….it is to the handbag what the Borsa is to the clutches.
LE CABAS "Il Paniere"
A new creation inscribes itself playing around with the gros-grain (a signature for the brand) laid out externally: the shopping bag can be carried on your shoulders or by hand. A simple and pure carry-all will always be with us, it fills up or not, according to our circumstances and daily moods.
LE PORTE-I-PAD "The I-Pad holder"
An elegant, ergonomic case for the vital contemporary object, inscribed all naturally in the House's codes, searching a perpetual combination between functionality and harmony. A cover, filled with pockets to protect and contain a few handwritings.
a new universe THE FOULARD
It is in its unique and particular way that Ragazze Ornamentali approaches the textile universe of the foulard: A cloud of leather teams up with the chiffon's softness. Timelessness and craftsmanship express here at the highest level of purity and refinement.
The new creations have a signature "openwork", memories from the past. The leather/chiffon association signs a limited series; it is there to offer us the chiffon's softness together with the sensual touch of leather, and holds us around the shoulders, our neck and head as a grey or a nude mist, " the " colors of the brand.
3 creations:
A CARRÉ (110 cm x 110 cm)
A MOUCHOIR ( 50 cm x 50 cm)
A OBI ( 130 cm x 20 cm )
A work executed as a musical partition in two tempos : chiffon for a sweet melody and leather for a sexy song, a couple that goes together, separates or reunites as time goes by …
Atelier Ragazze Ornamentali
9 rue de Normandie
Paris 75003