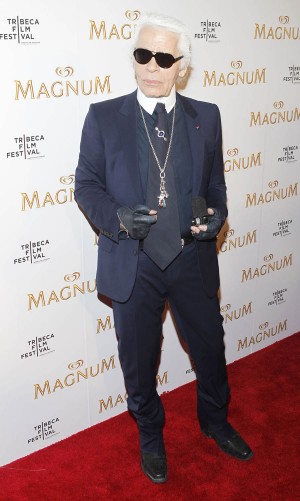 NEW YORK, Apr 21, 2011/ FW/ — Film, fashion and ice cream was last night's theme at the Tribeca Film Festival when design great Karl Lagerfeld and actress Rachel Bilson unveiled "Photo Mood", first of the three movies inspired by Magnum ice cream.
Directed by Karl Lagerfeld and starring Rachel Bilson, the film series features three distinct storylines – "Photo Mood", "Art Class" and "Applause"
In "Photo Mood," Ms. Bilson is a discontented famous model who finds the pleasure she's been seeking in the form of a smooth and delicious Magnum ice cream bar.
"Art Class" depicts Ms. Bilson as an art student obsessed by her strong desire for a Magnum ice cream bar, and is then inspired to create a beautiful work of art as she satisfies her craving.
The third vignette, titled "Applause," features Ms. Bilson as a world-renowned ballerina who, when unexpectedly faced with an over-zealous throng of fans and the amorous embrace of her boyfriend, played by internationally renowned model Baptiste Giabiconi, evades them all to savor a moment for herself by enjoying a Magnum bar.
The sensory-rich film series – the first of which will be available to view online at www.magnumicecream.com starting April 22, will be released in a staggered roll out over three weeks.
"Working with Karl Lagerfeld on the Magnum film series was a once-in-a-lifetime experience," said Rachel Bilson.
"Each film is a snapshot in the life of my character. I'm living out my dreams, but I'm always reaching for something more, something to fulfill my desire. That's what's great about Magnum ice cream – it reminds me how simple it is to enjoy life's little pleasures," Bilson added.
Launched in 1989, Magnum was one of the first handheld ice creams targeted as a premium adult offering. The film "Photo Mood" which was exhibited as part of the Tribeca Film Festival also marks the introduction of Magnum ice cream in the U.S.
Magnum ice cream bars are now available in grocery retailers nationwide, including Walmart, Target, Safeway and Kroger, and are available in six delicious flavors.