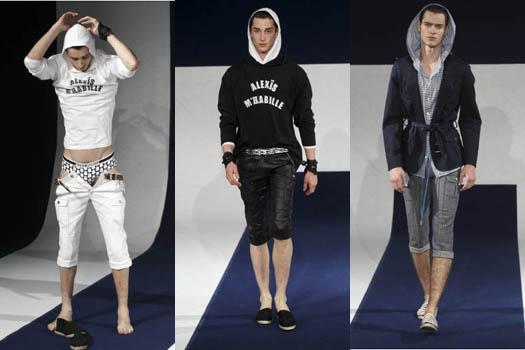 PARIS, June 26, 2011/ FW/ — While there weren't many clothes seen on the models this season, what we did see was a relaxed yet elegant menswear collection.  Pursuing his vision of relaxed yet elegant menswear, Alexis Mabille headed for the seaside.
The Mabille man this season is a born seducer.  A seasoned adventurer who is always open to new discoveries.  He charms in classic cuts, pea coats, spencer jackets and trenches, spiced up with unexpected fabrics such as inside-out cotton piqué, lacquered canvas and honeycombed jersey.  The Mabille man likes the refinement of satin, pin stripes, and rosebuds, jazzed up by the sporty allure of mottled grey jersey and 'wave' stripes, plaids  and knitwear in a camaieu of cream and navy.
The collection was also the introduction of Mabille's new intimates line for men, which explains the plethora of nearly nude men we saw parading the runway.  Waffle cotton robes, briefs and slinky pajamas were the signatures.
The Mabille man chooses the natural comfort of sweatshirts, track pants, or dressing gown, but with sophistication and humor.  On dry land, his attitude is nonchalant, silk bandana, espadrilles, shorts or cargo pants rolled up to the knee.  He captures the freshness of wide-poen spaces with a poncho, suit jacket or windbreaker, worn over shirts with a wide scarf collar.
The icing on the collection was the pun stitched into the back of cozy sweatshirts, "Alexis m'habille, me déshabille" (Alexis Mabille undresses me).
[LINDSAY MCCALLUM]
Paris Menswear Spring 2012