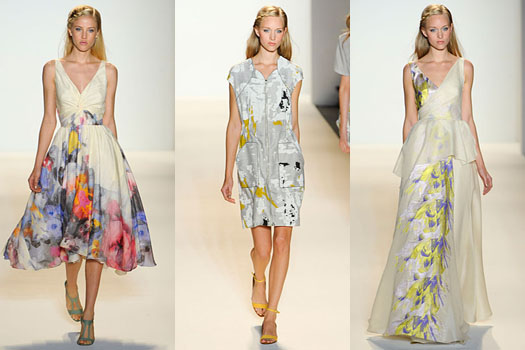 NEW YORK, September 12th 2011 – On Sunday morning, Lela Rose presented an incredible collection in front of hundreds of people, including some familiar faces like Susan Sarrandon and Mariska Hargitay, just to name a few.
Trying to lookfor words to describe it, it seems that the best description came from Lela Rose own words. Thus, here a part of the brand's press release, that clearly illustrate the vibe of the collection.
" The inspirations for this season were the neon graveyard, the unrestored and broken signs that dot the landscape of Las Vegas and Coney Island. Letter blocked silhouettes and chipped embroidery evoke the weathered stacked signs of Vegas, while cyclone prints, carnival stretch cotton and dotted blocked knits bring a Coney Island funhouse vibe. Faded lemon, periwinkle and neon tangerine, give an electric buzz tothe collection."
Hard to say more when it is to reality. Their metaphore is as poetic as the collection was. Bleached metallic tweed, stripped paint twill, and wash out voile were just among the incredible fabrics used to give this cool kids vibe, in a more womanly version.
Next summer, we do want to be dressed in Lela Rose.
[ MARIE-CHARLES]