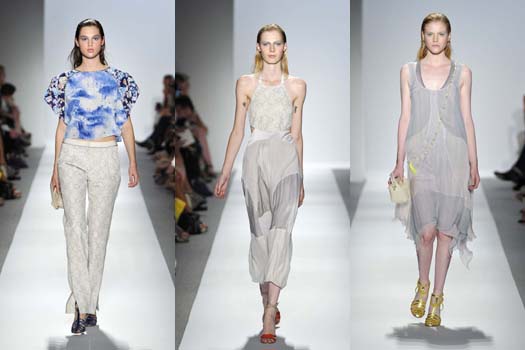 NEW YORK, Sep 10, 2011/ FW/ — To many, contemporary and ethereal are exclusive from each other because how can something which is modern also be delicate and airy. After all, we usually equate modernity with being hard and metallic.
Well, New Zealand-born designer Rebecca Taylor just busted that myth by sending on the runway a contemporary, fresh and ethereal collection that also made use of bold colors like yellow, silver and cobalt blue.
To another designer, these dissimilar elements can be a recipe for disaster. But with Rebecca Taylor's sure hand and her mastery of romantic silhouettes, the collection turned out unexpected cut-outs in silhouettes that are just to die for.
With beige as the main color palette, and different shades of blue and gray as highlights, the bold shades became brighter and conspicuous.
Cropped slouchy embellished sweaters, long skirts and voluminous outerwear in technical fabrics were proposed. Apron back dresses mixed with bone colored snake leather bibs inject a paired down cool attitude which sets the tone for the Spring 2012 collection.
[MARI DAVIS]
Photos courtesy of Rebecca Taylor
[nggallery id=348]