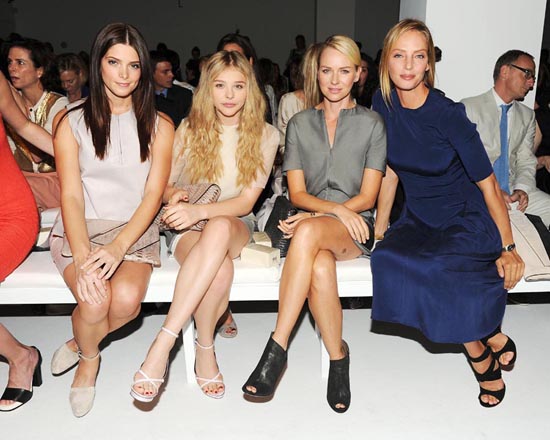 NEW YORK, Sep 16, 2011/ — With special guests Uma Thurman, Naomi Watts, Ashley Greene, Chloe Moretz, Nora Zehetner, and Dutch supermodel Lara Stone – all of whom were wardrobed in Calvin Klein Collection looks designed by Francisco Costa, sitting front row, Calvin Klein Collection unveiled its Spring 2012 collection Thursday, Sep 15, 2011.
The Spring 2012 women's Calvin Klein Collection was a delicate and sensuous celebration of the female form. The light, billowing array of silks in a soft palette of gardenia, petal, pout, and nude, contrasted with deeper tones of smoke and lacquer, had an intimate and romantic mood.
There were five exclusive models new to the runway: Josefien Rodermans, who both opened and closed the show, Ros Georgiou, Laura Kampman, Brittany Burke, and Carla Gebhart.
This season, calvinklein.tv includes – "LARA TV" – programming developed around the "WE LOVE LARA" theme Calvin Klein Collection created as a tribute to Ms. Stone, the current face of the brand. The theme was first introduced at the house's Madison Avenue flagship event for "Fashion's Night Out 2011" held on September 8th.
"LARA TV" featured exclusive footage of Ms. Stone at the runway show and a special camera from a new perspective, as well as a live chat function to allow viewers to participate in real time conversations about the show and the footage as it happened within the same interface.
Additional content was shared on the company's Facebook and Twitter pages, at facebook.com/calvinklein and twitter.com/calvinklein.
Runway photos by Dan Lecca
Front row and backstage photos by Billy Farrell/BFAnyc.com