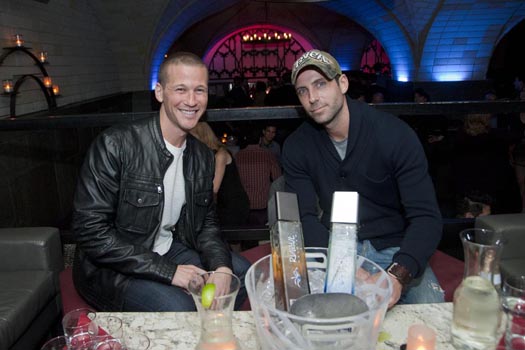 NEW YORK, Oct 13, 2011/ — Wednesday night Bachelorette star J.P. Rosenbaum had a tequila-fueled boys' night out, while Ashley Hebert had a chill night at home.
But she's clearly no fool: J.P. only strayed a few blocks from home to Bryant Park Hotel's Cellar Bar for the 3rd Anniversary Riazul Tequila soiree. The boys laughed, drank and were surrounded by dozens of hopeful single ladies.
J.P. however was unimpressed and confided to Bachelor alumni Graham Bunn, who joined him in a round of shots, that he felt bruised by his last relationship and never thought he'd love again until he met Ashley.
The Riazul party drew a crowd of models, socialites and tequila connoisseurs all there to taste the premium line of tequilas and signature drinks. Made from 100% blue agave, Riazul tequilas include a trio of quality Anejo, Reposado and Silver all varying in age and taste.
Pictured below, JP Rosenbaum & Graham Bunn with Riazul Tequila's "El Capitan" Inaki Orozco
Photo credit – Rob Loud