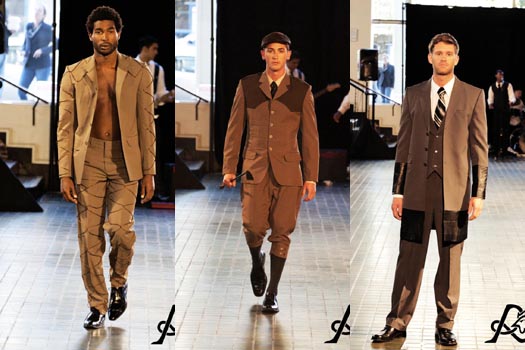 SAN FRANCISCO, Oct 13, 2011/ FW/ — It was the middle of summer, August 27th. The show started just after 4pm. The sun was still peeking through the uncovered parts of the full length window of the venue (British Motor Car Distributors Ltd.). But the setting was not a hindrance for the designer brought on a show full of great menswear and one surprising female model that added edge to his show.
One male model came out right after the other wearing well tailored suits. Reminiscent of James Bond suiting, I was waiting for Pierce Brosnan to end the show somehow. Agreeably enough, the designer called his collection "Revolver".
Daniel Sudar opened the show with a riding suit, military cut suits together with your traditional tuxedo suits and a surprising over coat with extra wide leather piping on the cuffs, hemline and the lapel. Sudar also cleverly added a twist (literally) to a suit shown with lace up closure on the jacket, as well as the slit on the side of the slim fitted trouser.
The designer's versatility can even take his subject from day to evening and chic to edgy. The one female model that he featured can be compared to a female "Bond" and Sudar dressed her well. She's full of confident in a leather slim fit Bermuda length shorts.
The San Francisco Bay Area Fashion Network (SFBAfn) is a fashion trade association with membership consisting of womenswear, menswear, jewelry and accessory designers, stylists, photographers, hair & make-up artists, model agencies, fashion show director/producers, retail buyers, fashion editors, and fashion industry related professionals.
[HEIDE WINKENWERDER]
Photos by Roostuh Film Productions