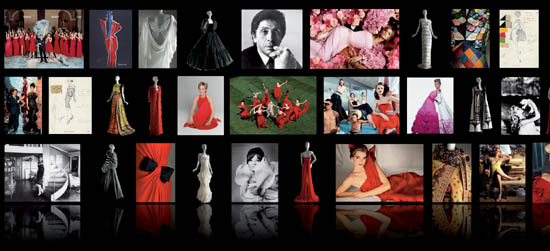 NEW YORK, Nov 21, 2011/ FW/ — Designer and couturier Valentino Garavani is so famous that we just call him by his first name. In fact, his label just says "Valentino" and if you are not into fashion history, his last name Garavani might be unknown to you.
Valentino Garavani might have retired as a couturier a few year back, but he continues his work on fashion, this time tackling the digital world as he put his fashion museum online at the "Valentino Garavani Virtual Museum."
Together with Giancarlo Giammetti, Valentino Garavani has put together an unprecedented digital fashion experience showcasing five decades of fashion history. Mr. Garavani is the first international fashion designer to curate a permanent exhibition of his work in a digital form.
The virtual museum is a downloadable desktop application connected to an online database that uses a real time 3D technology to create an immersive environment.
Content is arranged in a museum layout where users explore the different galleries and wings covering what would be over 10,000 square meters in an actual museum. Over 300 dresses from the Valentino Garavani archive were captured for the museum and are organized by theme.
Also, content such as sketches, illustrations, advertising campaigns, editorials and red carpet as well as event photos provide a story to go with each dress.
Special events and exhibitions from the pair's history are celebrated with photos and video – from the 1968 White Collection to the 2011 White Fairy Tale Love Ball. In addition, the application features a media library which catalogues the over 5000 images including dresses, photos, drawings and 95 fashion show videos.
As of today, the website www.valentino-garavani-archives.org is officially live. The site features a short video showing highlights from the museum and allows users to register their email addresses for updates on the launch.
A social media campaign including Facebook, Twitter and YouTube is also live today previewing assets from the museum leading up to the release of the application. Through these social media platforms, museum users, fans and enthusiasts will be able to comment on and share the content of the museum.
[MARI DAVIS]
Photos courtesy of Valentino Garavani Virtual Museum