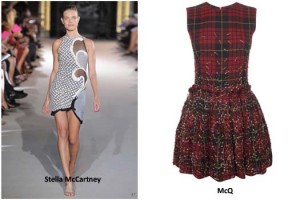 London Fashion Week has received a timely boost with the houses' of two of the city's most famous protégés announcing that they will be present on the A/W 2012 schedule next February.
Stella McCartney will present a one-off collection on home turf on the 18th and the Alexander McQueen diffusion line McQ will add weight to the calendar by choosing the city to stage it's first catwalk show.
Both designers were high profile graduates of London's Central St. Martin's college and while the city has always been regarded as a hotbed of raw fashion talent this has not been easily translated into high profile commercial success; the ambitious lured away to the brighter lights of New York, Milan or, most often, Paris.
Indeed, McCartney, whose label is jointly owned by the luxury branch of French fashion behemoth PPR, and McQueen, with Gucci no less as majority shareholder, will unveil their principal collections a week later under Parisian skies.
That the two labels are apparently turning their attention homewards can only be a good thing for London however and speculation is mounting in some quarters that this could represent a dry run as the houses toy with the idea of a full blown return. Burberry, it is noted, has enjoyed increased success since it eschewed Milan in favour of London in 2009 and the move seems to have done nothing to harm Matthew Williamson or Alice Temperley either.
What is certain is that both labels have faith in the spending power of the English public however with McCartney due to open her second outlet in the capital and McQ to unveil its first flagship store next year.
All in all 2012 looks like being a high profile year for McCartney in London with Selfridges department store hosting a 'World of Stella" exhibition and the British Olympics team sporting the designer's kit through her ongoing role as creative director in collaboration with Adidas.
[ANTONY JOHNS]
Photos courtesy of London Fashion Week