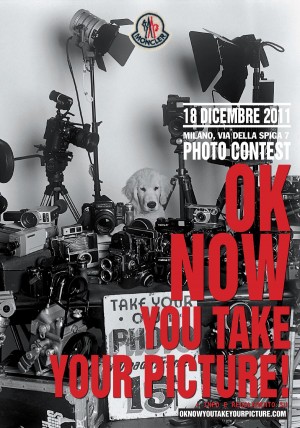 MILAN, Dec 16, 2011/ FW/ — "OK, NOW YOU TAKE YOUR PICTURE" – A new street contest from Moncler that invites the public to give their own interpretation of Moncler as a brand.
It's a creativity challenge thrown open by Moncler to everyone. The beginning of the challenge is set for Sunday 18 December 2011, at 7, Via della Spiga in Milan.
Here, in front of the Moncler boutique, two thousand limited edition T-shirts designed specifically for the initiative and customised with the brand will be distributed between 10:00 and 19:00.
Entering the contest is easy: after collecting your T-shirt, just register on the website www.oknowyoutakeyourpicture.com
To take part, all you have to do is get into the spirit of things and photograph the Moncler T-shirt wherever and however you like. You can wear it or have someone else wear it, it's entirely up to you.
What counts is the expression of an original, unusual and above all personal view of the Moncler world, capturing an emotion with a snapshot, or even lots of different snapshots. In fact each person can take an unlimited number of images.
The photos may be uploaded onto the website www.oknowyoutakeyourpicture.com from 18 December until 6 January 2012 (the date on which the contest closes), where they will be visible.
By 12 January the Maison will choose the twenty best images that will be taking part in the new Moncler spring summer campaign created by Bruce Weber.
Of the twenty chosen, by 20 January 2012 a sole winner will be chosen. The prize is a trip to New York during NY Fashion Week in February 2012 to take part in the Moncler event, to experience all the thrill of soaking up the effervescent atmosphere in the Big Apple with the brand, and being part of the beating heart of creativity. Cameras on the ready, of course. OK, now!