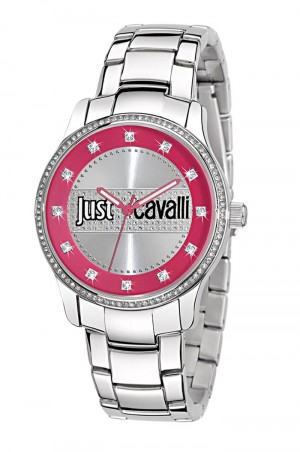 NEW YORK, Jan 12, 2012/ — Love is timeless and a great way to celebrate Valentine's Day is to give your significant other the gift of time… Just Cavalli time, to be precise.
Launched in 2002 under the Just Cavalli line, the Just Cavalli watches collection reflects the label's highly imaginative eclectic style.
Colours, leather and fabrics with original very characteristic prints team perfectly with the label's clothes and are ideal timekeepers for frenetic day to day urban life.
This season, Just Cavalli Time brings new collections reinterpreting freshness, the Cavalli style, and the trends of this season.
'Cruise' Collection
Stainless steel case 28x29mm
Enameled or diamond dust dial
Stainless steel bracelet with enameled details
'Huge' Collection
3H
Stainless steel case 46mm or 38mm with crystals
Stainless steel bracelet or leather strap
Dial with crystals
'Game' Collection
3H or multifunction
Resin case 42mm with stainless steel inside structure
Resin bracelet
Bezel with crystals or gold PVD details for women's models
'Rude' Collection
3H o multifunction
Stainless steel or PVD case 36x44mm
Stainless steel bracelet or leather strap