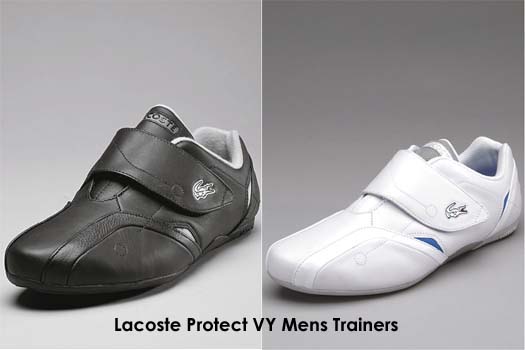 LONDON, Mar 31, 2012/ — The trainer is a staple of men's fashion. From season to season there's little variation in the designs of men's fashion trainers because, well, if it ain't broke don't fix it. Having said that, though, there are a handful of brands out there that are just that little bit more innovative than their competitors.
Lacoste trainers have long been a popular choice for men looking for comfortable and stylish pieces of footwear, and the company's most recent designs look to continue that trend.
Simple, lightweight trainers are essential to any casual look. In fact, the simpler the better as crisp, clean designs are much easier to style and will fit into your wardrobe far more easily. Many Lacoste trainers come in plain white or pale colours with elegant detailing, which is part of what makes them so popular.
The Lacoste Protect VY defines simple, white trainers. They come in white with a strap across the top to fasten them in favour of laces and, as Lacoste says itself, they'll pair up perfectly with jeans and a Lacoste polo shirt (there's no denying the brand's polo shirts are also the best around!) for a night out with friends or with a pair of sweatpants for a lazy weekend at home.
If a strap isn't your thing then you could also check out the Lacoste Haneda, which is a simple and stylish design similar to the Protects, but with a classic lace-up design.
For a slightly more formal affair, plimsolls and canvas trainers are always popular choices. Providing a smarter alternative to standard trainers, Lacoste has designed an array of stylish plimsolls, which will pair perfectly with dark jeans or chinos to help you nail that 'smart casual' look.
The Lacoste Bateau canvas pumps also combine boat shoes with plimsolls for a refreshing modern take on the white trainer. For a more traditional pump, there's the Lacoste Andover, which is available in several colours.
Finally, if you're looking for something a bit smarter than trainers but not as smart as loafers, then a desert boot could be ideal. Lacoste's Ampthill desert boots are a fashionable take on an age-old design, finished in leather with a thick rubber sole.