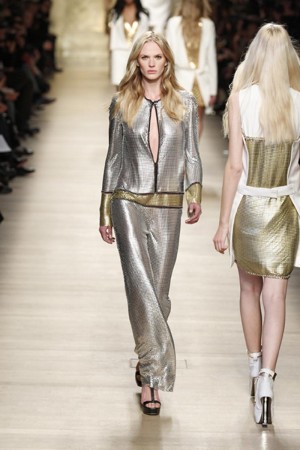 PARIS, Mar 6, 2012/ — In the 1960s when Paco Rabanne launched his eponymous fashion house, he brought the terms "futuristic" and "space age" in the fashion lingo. For Fall/Winter 2012-2013, the house puts on the original vision of its founder, transposed into today's world.
The utopias of the 1960s and 1970s have cleverly morphed into an urban, dynamic wardrobe with mastered audacities for the 21st century. And, at the very heart of the Paco Rabanne vision of timeless values are two currencies – avant-garde and elegance.
It was not a matter of looking into the archives… it was a matter of osmosis with the spirit of Paco Rabanne as the House finds a meaningful link between past, present and future.
The Fall/Winter 2012-2013 collection is inspired by the image of singer Françoise Hardy in the early 1970's – a troubling beauty; a femininity with no complexes and far from the usual clichés.
The PACO RABANNE 2012 silhouette is clear-cut, sharp. However, its graphic contours are in perpetual motion. The precision of the line is expressed by newly found comfort.
The kimono sleeves and the jackets designed like supple armors are the strong signatures of the season. The techniques invented by Paco Rabanne in the 1960's were minutely studied and modernized to convey comfort without impairing visual impact.
The coat of mail is now positioned on tulle or warp and weft; it transforms itself into reflex knit, combining the softness of mohair and the high-tech of reflecting fiber. All the ''no couture'' elements are adapted to the standards of contemporary luxury.
The ''8'' and ''69'' lozenges are lighter and have more versatility. Thanks to the different assemblages, they move away from all-metal. As inserts, panels, striping or puzzles, they set the rhythm of the collection with legitimacy.
In keeping with the success of the cult ''69'' bag, pulled out of the archives and relaunched in the Spring of 2011, the House has continued to produce editions of its iconic pieces. A jumpsuit in metal pieces designed in 1970 by Paco Rabanne for Françoise Hardy is reborn in metal mesh, as a knit version as well as in warp & weft.
The mini metallic dress, designed in 1969 and worn by Brigitte Bardot in a famous photography by David Bailey has been re-edited in an original version, along with a number of new variations.
The palette of colors is mastered: gold and silver, the House signatures, but also optical white, cement, ash, stainless steel, black, sustained by a hard blue and a boreal orange flash.