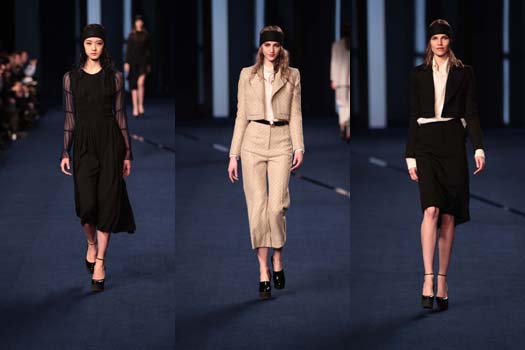 PARIS, Mar 2, 2012/ — A trip down memory lane when designer Sonia Rykiel was a redheaded muse with the soul of a poet draped in voluminous coats inspired this collection.
A blend of Parisian nonchalance and a twist on the classics; becomes apparent in a wardrobe composed of pieces that are familiar and yet surprising. A beautiful pair of trousers, an impeccable white shirt, a little sweater that hugs the body…all these are rediscovered then given a slightly offbeat twist, the fruit of subtle experimentation based on pairing opposites.
Short jackets, streamlined or relaxed, graze the waist of lean cropped trousers with a high, curved waist, or glide over an ambiguously chic wispy blouse. Hands in her pockets, the Rykiel woman is right at home with the Parisienne's casual bearing.
At times, she prefers skirts to trousers, slit unreasonably high or reaching below the knee for an added air of mystery.
Knitwear spins out in a myriad ways: faux-shrunk or prettily pierced with holes, it looks like a favourite talisman that's been worn next to the skin time and again. Vaporous smocked dresses float over the skin like a halo.
Graphic trompe l'oeil shirtdresses play up contrasts in colour and materials or, on the other hand, cross fade into motifs like a sequence from an abstract film shot in Saint Germain-des-Près.
With timeless black and white comes a poetic and sensitive palette of seemingly time-faded pastels, gradations of greige and biscuit flecked with notes of orange. An abundance of geometric prints play tricks on the eye. Rykiel stripes become abstract, dissolving into shades of soft yellow or flame.