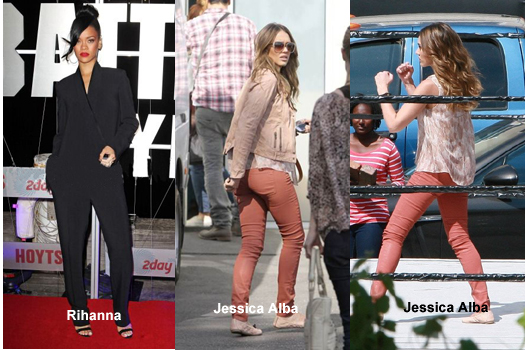 LOS ANGELES, Apr 10, 2012/ — Jessica Alba, the former Dark Angel, has always known how to kick a little booty so it's no surprise she successfully threw up her dukes while in a wrestling rink at the Bellevarrado Studios for a YouTube commercial shoot in Los Angeles on Monday, April 9.
She managed to do it looking more glamorous than any wrestler ever could in a pair of kick-ass Habitual Alice Coated Skinny jeans in one of the hottest peachy colors of the season called Taj Mahal. (Habitual Alice Coated Skinny in Taj Mahal – $228)
Meanwhile, Rihanna turned heads in Stella McCartney Autumn 2012 Look 9 Black Stretch Cady All in One at the 'Battleship' Australian premiere at Luna Park on April 10, 2012 in Sydney, Australia.
Back here in the U.S., it is confirmed that Neil Patrick Harris will host the 2012 Tony Awards.
Supermodel Selita Ebanks was spotted at the Mandarin Oriental Hotel in New York City wearing the Chimpanzee Pendant in 14kt gold Necklace by Alex Woo for Earth Day.