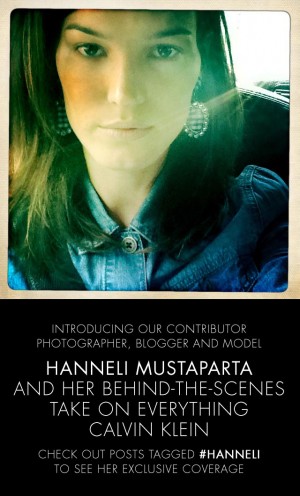 NEW YORK, May 1, 2012/ — Calvin Klein, Inc. expands its social media reach with the launch of its official Tumblr Blog with photographer, blogger and model, Hanneli Mustaparta serving as contributor.
The official Calvin Klein Tumblr® blog, located at calvinklein.tumblr.com will give readers a more editorial point of view of the brand, allowing them to browse through the company's current and archival advertising campaigns, and to explore inspiring visuals from the brands intersection with the worlds of art, architecture, style and music.
Ms. Mustaparta will be providing content for her own designated category, #Hanneli, of the Calvin Klein Tumblr® blog. The new blog will be supported by the Calvin Klein's official Facebook page and Twitter account which will regularly promote her new blog posts.
Hanneli will be given behind-the-scenes access to the new apparel and accessories collections, which she can review, style and photograph, as well as interact with the company's creative directors and models, and attend events in New York and abroad as a guest of the house.
Ms. Mustaparta first collaborated with the house in February for the Fall 2012 women's Calvin Klein Collection runway show, providing behind the scenes photos that were posted on the brand's official Twitter account.
Her posts gave followers of the brand, another point of view and insider perspective on the new collection, the models, and the guests, as well as the brand's award-winning Women's Creative Director, Francisco Costa before and during the show.
Ms. Mustaparta, a former model turned stylist, began to document her various looks with her own camera in 2008, and gradually developed her own unique sense of street style photography. As a regular fashion blog contributor in her home country of Norway, she soon realized the impact her posts had regionally, and began to develop an international following.
In 2009, she established her own blog, hanneli.com, where she continues to post a mix of her own street style photographs and self portrait shoots, and in 2010 she was named a Contributing Photographer to Vogue and Vogue.com, for whom she still collaborates with today.