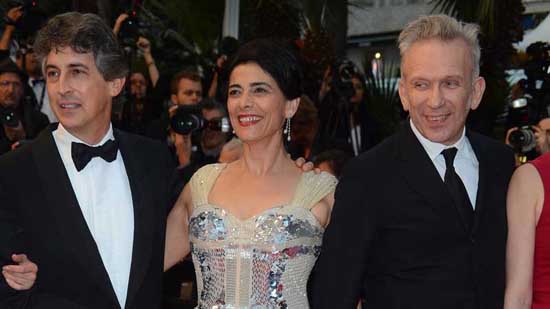 DALLAS, May 30, 2012/ — In a rare photo, jury members Alexander Payne, Hiam Abbass and Jean Paul Gaultier were together on the red carpet during the last day of the 65th Cannes Film Festival. Ms. Abbass was wearing a Roberto Cavalli gown while Jean Paul Gaultier was wearing a skirt, which is one of his creations.
Jean Paul Gaultier
Jean Paul Gaultier was born in 1952 and started his career with Pierre Cardin in 1970. Gaultier staged his first fashion show in Paris in 1976. Critical and commercial acclaim followed and the brand continued to develop with the launch of menswear in 1984 and haute couture in 1997. Gaultier also designed for Hermes from 2004 to 2011. Throughout his career Gaultier has worked in dance, music and the cinema. His costumes for Madonna's Blond Ambition tour have left an indelible imprint on the popular culture. His first collaboration in the cinema with Peter Greeneway for The Cook, The Thief, His Wife and Her Lover was followed by The City of Lost Children by Caro and Jeunet, Fifth Element by Luc Besson and three collaborations with Pedro Almodóvar on Kika, Bad Education and The Skin I live In.
Alexander Payne
Originally from Omaha, Nebraska, Alexander Payne earned his MFA in Film at The University of California, Los Angeles (UCLA). He made his feature film debut with Citizen Ruth (1996) and followed up with Election (1999), which won Best Screenplay from the Writers' Guild of America and the New York Film Critics Circle, as well as an Oscar nomination for Best Adapted Screenplay. About Schmidt (2002), premiered in competition at the Cannes Film Festival and opened the New York Film Festival. Both Sideways (2004) and his latest film, The Descendants (2011), won Oscars for Best Adapted Screenplay and were nominated for four others, including Best Picture and Best Director.
Hiam Abbass
Born and lived in Nazareth. Her acting career started with Palestinian's El- Hakawati Theatre Group until the late 80's when she moved to Europe. Her feature film work includes Mashharawi's Haïfa; Amari's Satin Rouge; Abu-Assad's Paradise Now; Nasrallah's Bab el Shams; Gitai's Free Zone and Disengagement; Spielberg's Munich; Riklis' The Syrian Bride and Lemon Tree; McCarthy's The Visitor; Dabis' Amreeka, Chéreau's Persecution; Jarmush's The Limits Of Control, Schnabel's Miral, and Mihaileanu's The Source, Additionally, on Iñárritu's Babel as well as Spielberg's Munich, she worked as creative consultant and acting coach. Hiam Abbass who directed two short movies, Le Pain and La Dance Eternelle, is now completing her first