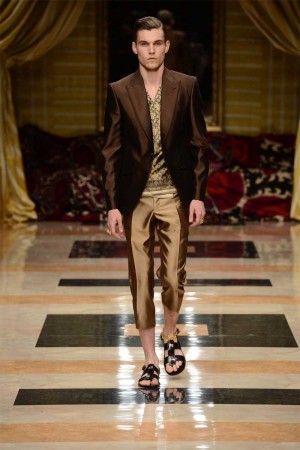 MILAN, Jun 27, 2012/ — "It is the best of times, it is the worst of times"… a time for Great Expectations. Inspired by Charles Dickens, Carlo Pignatelli interpreted the works of the great English novelist in fashion terms for the modern man.
A mood that encapsulates everything typically British, borrowing its signature aesthetic symbols from Great Expectations: the elegant gentleman style and the extravagance of Miss Havisham, the eternal bride-to-be.
The tailored cuts so typical of the early nineteenth century strongly characterise the style of the menswear, which feels echoes of British colonialism in India.
The personality of the novel's hero, the young Pip, provides inspiration for the refined navy blue suits in satin taffetas, matched with white silk shirts with stand-up collars decorated by gossamer-light cravats/foulards.
Warm champagne hues alternate with contrasting or matching classic tones; and a more chic style is seen in embroideries that recall those of uniforms and that embellish blazers and shirts with a "Royal Bombay Yacht Club" flavour.
Exotic influences also in the long shirts like tunics and in the flowing jackets inspired by the ancient maharajas, coming in natural shades of beige and cream, right down to tobacco and chocolate, in solid plain colour or jacquard.
Finishes in gold leaf with touches of cornflower blue and shocking pink recall the traditional sari, the inspiration behind the fabrics and decorations.
The must-have garments of Carlo Pignatelli spring-summer collection are the waistcoat, both as an important accessory and an individual piece, decorated like a jerkin; the sari, whose fabrics are used also for the formal bomber jacket.