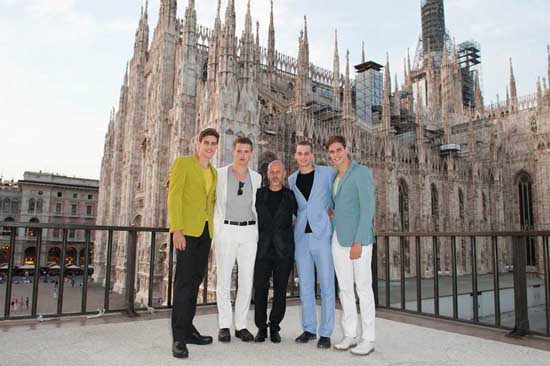 MILAN, Jun 25, 2012/ — Right after the highly successful unveiling of his Spring 2013 menswear collection for Calvin Klein Collection, the brand's Men's Creative Director, Italo Zucchelli was honored with a dinner party at the famed Giacomo Arengario overlooking the Duomo cathedral in Milan.
Among the editors and notables in attendance, those wardrobed in Calvin Klein Collection included New York Rangers' Henrik Lundqvist, New York Knicks' Amar'e Stoudemire, and New York Giants' Victor Cruz, each of whom also attended the show earlier that day, as well as Mia Moretti.
Several of the models featured exclusively in the runway show were also present and included Paddy (Select), Thorgen (Fashion), Jordan Stenmark (Red Model Management), and Zac Stenmark (Red Model Management).
On Sunday, Mr. Zucchelli described the new collection as all American sportswear in new, relaxed proportions. Overall, the cuts are graphic and uniform, focused on volume and scale. Cropped and generous, lean and slim.
Iconic bomber and motorcycle style jackets are shrunken and counter balanced with a tapered, single pleat, tab-front pant. For evening, the tuxedo is elegantly relaxed and updated with a mesh lapel in buff on buff bonded wool or charcoal on black.
Tones of blue form the base of the collection with engineered and abstract prints inspired by California summers.
IMAGE CREDITS: © 2012 Davide Maestri