Miami, July 29, 2012/ FW/ — Entitled 'Studio 54', the theme for the Red Carter Resort 2013 collection is inspired by the glitz and glamour of Studio 54, New York City's legendary night club.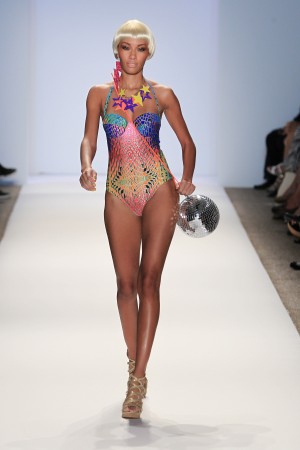 For his resort collection, the designer, Red Carter combines sophisticated, classic swimwear with ruffles and bandage stripes along with his signature sexy cut-outs in bold, geometric patterns and Aztec and animal prints.
The Studio 54-inspired looks include electric, retro tube tops, 70s-style flare pants, art deco bustiers, and an off-the-shoulder one-piece.
Carter also pays homage to his Studio 54 collection theme by including foiled, disco ball-inspired swimwear ensembles.
Hues in the collection consist of a rainbow pop of vibrant colors including orange, indigo, yellow, and turquoise, as well as bronze, black, white, and blue.
[Darby Radcliff] Photos Courtesy of Getty Images