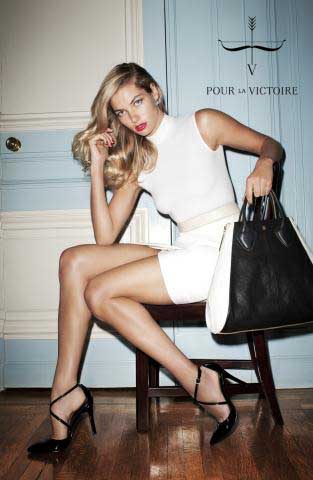 DALLAS, Aug 11, 2012/ — Parisian-inspired accessories brand, Pour La Victoire's shoe and handbag collection draws inspiration from a blend of refined French indulgences and modern luxuries inspiring a woman's natural convictions of confidence.
To debut the brand's fresh new face, Pour La Victoire partnered with renowned fashion photographer Terry Richardson to shoot its first ad campaign, featuring model Jessica Hart and styled by Mel Ottenberg.
The campaign, which revealed a sneak peak at the adverts this week, will present the holiday/resort collection. Designed by the brand's co-founder and Creative Director David Giordano, the Spring 2013 footwear and handbag collection exemplifies a luxury accessory brand with a modern twist on Parisian heritage, crafted with premium leathers.
Pour La Victoire reflects the spirit and style of a high-end European fashion house with a commitment to design and the continuous pursuit of quality. The collection embodies the values of a French woman: empowered, sensual and timeless.
Pour La Victoire's efforts for the upcoming campaign reinforce the evolution of the adored brand, a platform that brings to life a spirited story and conversation about the brand's core values of stylish insights, accomplished women and genuine luxury that is universally accessible and embraced.
The Spring 2013 footwear and handbag collection will be carried at national women's retailers across
the country including Saks Fifth Avenue, Neiman Marcus, Bloomingdales, Nordstroms and over 250 independents.
www.pourlavictoire.com