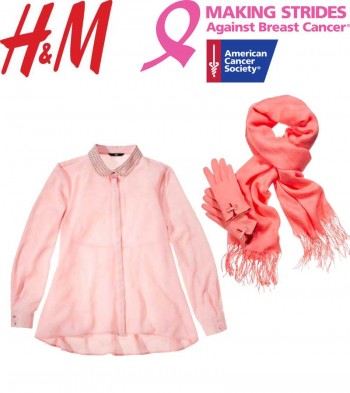 NEW YORK, Sep 25, 2012/ — H&M urges its customers to make strides to end breast cancer with the perfect H&M pink products, starting at only $5.95, of which 25% of the purchase price during the month of October will go directly to the American Cancer Society® to support its important work in the areas of breast cancer.
For H&M, Hennes and Mauritz, giving is always in fashion. Now on its seventh year in teaming up with the American Cancer Society Making Strides Against Breast Cancer initiative, this is the second year H&M has created special products for the charity to raise money for breast cancer awareness.
This October, you can pick up a soft pink studded collar blouse, a pair of gloves & scarf, or a smartphone case to help end breast cancer.
Making Strides Against Breast Cancer events make up the largest network of breast cancer awareness events in the nation, uniting more than 270 communities to fund the fight. Making Strides walkers turn awareness into action by raising more than $60 million for the American Cancer Society each year – one dollar at a time – to save lives from breast cancer.
Since H&M's partnership began in 2006, thousands of H&M staff members have walked at hundreds of Making Strides events across the USA!
H&M U.S. has generated over $850,000 through online staff donations, customer register drives, grants, and percentage of garment sales donations to support the American Cancer Society. To join your favorite H&M team at a walk near you, please visit MakingStridesWalk.org.
These special products are available in H&M stores nationwide starting 10/1/12.