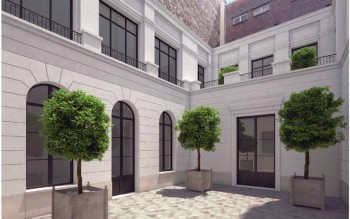 PARIS, Oct 22, 2012/ — The 50th Chloé boutique in the world and the second Chloé location in Paris, the French's label's Rue Saint-Honoré flagship is another feather in Clare Waight Keller's cap.
When Clare Waight Keller and Joseph Dirand were chosen to create Chloé's flagship store at 253 rue Saint-Honoré, the fashion house's British-born Creative Director conveyed to the Parisian architect the image of the Chloé woman with an aura of seventies sensibility.
Chloé's DNA is imprinted on naturalness, freedom and modernity. And the store at 253 rue Saint-Honoré is the perfect illustration of the intangible elegance of this bold woman. Architect Joseph Dirand created this feminine world where unassuming luxury shows through in the ready to wear collections.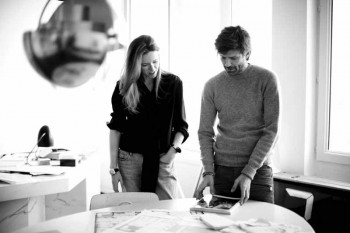 This very masculine architect who is used to playing on contrasts, clean lines and sharp angles, embraces the brand's fundamental identity and is influenced by its rich, flowing materials, its shades of soft beige and ivory and its curvaceous shapes and gilded metal forms.
Clare Waight Keller and Joseph Dirand together created the space that reproduced the identity of Chloé – transparent and slender silhouettes are designed to reflect the personality of every woman.
A light-filled space where one can wander around freely, it is designed with poetry and luxury and reveals a natural hospitality, a "cool attitude" that defines the Chloé spirit and its welcome.
Beginning at the ground floor, the visitor is grabbed by the interplay of transparencies, the stairs and succession of rooms displaying the core of the collection, leather goods and shoes.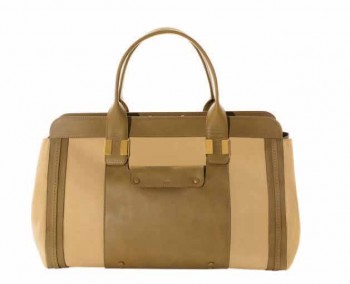 The furniture's organic lines are designed by Joseph Dirand, and a tribute to designers like Maria Pergay, Gabriella Crespi or Willy Rizzo. The furniture has been produced by the greatest French craftsmen. The shelves, delicate and light as leaves, blend into the decor.
Everything is balanced by the natural and shifting light from the verdant patio which filters in through the bay windows and skylights. The atmosphere which is created offers chloé women and young girls a world cultivated by affinities.
On the first floor, the atmosphere is more intimate to house the ready to wear collection. Here, rather than being obvious, the aesthetic complements the collections. This experience, rich in emotion reflects the image of the Chloé woman and serves "best friends" who choose a graceful philosophy and believe in their dreams.
To celebrate its opening, La Maison Chloé introduces a limited edition "Alice" handbag, medium model in the exclusive colour "stem ginger/gold savannah". Only thirty units were manufactured, each of them numbered and engraved and available only at the Chloé boutique, 253 Saint-Honoré, 75001 Paris.